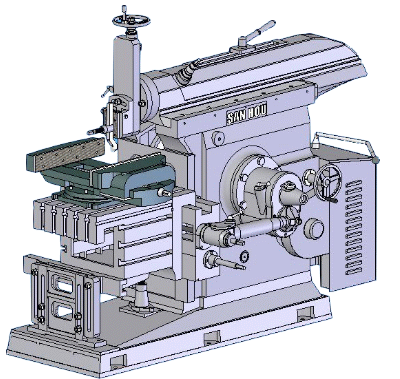 Introduction
COMPANY:SAN HOU MACHINERY CO., LTD.
ADDRESS:80, Chang-an E. Rd., Taiping City,
Taichung County 41152, Taiwan
TEL:04-2393-0207
FAX:04-2392-9938
E-MAIL:sanhou.tw@msa.hinet.net
URL : http://sanhou.myweb.hinet.net
PRODUCTS:
HEAVY DUTY SHAPING MACHINES
HYDRAULIC COPYING SHAPING MACHINES
HYDRAULIC RADIAL DRILLING MACHINES
RADIAL DRILLING MACHINES
CAPTIAL
:
NT$ 2.ten million
BUILT IN
:
1971.08.17
AREA
:
10000 sq.m
MARKETS
:
WORLD WIDE
Company History
The current President, Mr. Wang, set up this company in 1959.
The factory was located at Yuen Tzu Street, Taichung City.
The company was named "San Hou Machinery Co. " We manufactured heavy duty Shaping Machines. Because the factory premises were small, the productivity was limited. Our production were unable to meet the needs for domestic and foreign markets. We, therefore, renamed our company as "San Hou Machinery Co., Ltd." in 1971, and moved the factory to Pei Tun Road, Taichung City in 1972. We expanded business there, and specialized in producing heavy duty shaping machines - model no. SH-24D, SH-36B and SH-51C. At that time we also accepted customer-designed orders. Our shaping machines have very good performance. Due to excellent quality, our machines are very popular in both domestic and foreign industries. We receive many good reviews, and at this stage our productivity has increased from small volume to big volume.

From 1980 to 1981, we attended a tender called "Improvement Project on Industrial & Vocational Education". We supplied shaping machines and equipment to all the public industrial & vocational schools in Taiwan. Because the machines had very high quality, we received many good reviews. Therefore, private industrial & vocational schools all over Taiwan followed those public schools to buy our machines. Thus, our machines were widely used by both public and private schools and companies. You could find our machines at any place of Taiwan. Our reputation was even spread far away to foreign countries, and our buyers were all over the world. In 1983 we successfully exported our machines in large quantity to the industrial & vocational schools in Indonesia. Since then, the vocational training organizations and public/private companies in Southeastern Asia, Europe and the USA continued to buy our machines.
In order to upgrade our products and increase productivity, we set up 2nd factory at 80, Chang-an E. Rd., Taiping City, Taichung County in 1978. The factory area was about 10000M2. There we specialized in the research and development of machine tools and special machines which our customers needed. By now we have developed 360°swivelling table, auto down feeding device and auto tool lifter… and new design or patented shaping machines. In 1981 we bought newest equipment and used better technology to develop hydraulic type, radial drilling machines. We had 3 models SHR-1300 and SHR-1600A. We enjoyed good reputation. In addition to Taiwan area, we also exported them worldwide.
In 1996 we produced HEAVY DUTY SHAPING MACHINES & HYDRAULIC COPYING SHAPING MACHINES. We also had 3 models - SH-24CS, SH-36CS and SH-51CS.

All our machines conform to CNS and JIS standards, and are recommended as very popular products in both domestic and foreign markets. We have the biggest productivity and the best quality in the same trade. Our machines are widely used in tooling shops, steel works, repair shops and other factories as basic equipment.
It has been 40 more years since we set up this company. Our brand name has firmly built in many industries, but we still engage in the R&D work because it is an important link of our company policy. We employ local talented persons, and encourage them to develop their professional knowledge and skills. With many years of manufacturing experiences, we concentrate our mind to the research, the innovation and the development. We produce quality products to increase our competition force, and internationalize ourselves.